Accidental Birds of the Carolinas
2012 PEN/Hemingway Honorable Mention for Distinguished First Fiction


2011 Novello Literary Award Finalist

Perpetual Folly's 2011 Best Story Collection of the Year





SIBA Nominee, Best Short Fiction
Short stories about natives and newcomers in the South
In Hudson's fictional Ambler County, some of the characters know each other well, some drive by and wave, and some pass unaware they are connected by place and time. Hudson has captured the moment when rural life was still dominant in the Carolinas and able to charm a stranger into staying.
Like birds blown off course in a storm, landing in an unfamiliar country, the characters in these stories need a place to roost, somewhere to settle long enough to learn the secrets of their own hearts.
Read the title story, published in The Literarian at the Center for Fiction
Praise for Accidental Birds:
""Here is a field guide to the human species in transition….The three longest of these splendid stories are like novels in nutshells, Alice Munro style"–Doris Betts, author of Souls Raised from the Dead
"For any Southerner who's ever wondered what it's like to be a Yankee transplant, read Accidental Birds of the Carolinas… –  read more at North Carolina Literary Review Online, No. 21

"Hudson must believe in magic, and uses it in her writing, creating magical scenes, magical effects, vivid dreams, mysterious events," says Deirdre Parker Smith of the Salisbury Post. "Birds sing through several stories, and by the end of the novella, there's been a symphony of mockingbirds, whippoorwills, sparrows, frogs, dogs, bees, butterflies and more. Each lost soul connects to the natural world for healing and solace."
"They arrived by Mustang, by marriage, by hitchhiking. The characters in Marjorie Hudson's story collection, Accidental Birds of the Carolinas, have strayed — like vagrant birds — from familiar territory to reach a transfiguring moment in their lives. . . . Many of Hudson's narratives explore themes of family — found, invented or inherited — navigating the often suffocating nature of belonging, or the catastrophes of reinvention." — Kathryn Savage, Minneapolis-St. Paul Star-Tribune
"A wonderful book." – D.G. Martin, NC Bookwatch, WUNC-TV
"A fiction writer of considerable craft– her interplay of personality, nature and fate brings Thomas Hardy to mind." – Ben Steelman, Wilmington Star-News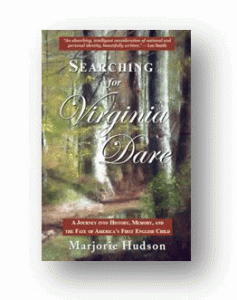 Searching for Virginia Dare: A Journey into History, Memory, and the Fate of America's First English Child
In 1587 America's first English child was born in a remote island wilderness. They named her Virginia Dare. Soon after her birth, Virginia and more than a hundred men, women, and children disappeared, leaving a cryptic message carved on a tree. Chapter 1
What became of that child and her people, now known as the Lost Colony? In search of an answer, Marjorie Hudson wanders the back roads of North Carolina and Virginia in an aging Dodge Caravan with a satchel of research notes and a head full of memory and imagining.
Amazed by abandoned farmhouses wrapped in kudzu, the Great Dismal Swamp "dripping with spotted snakes," the bones of the Jamestown colony, and the living nation of the Lumbee, Hudson discovers an epic story more complex and more deeply moving than she ever imagined.
Reviewed and recommended by North Carolina Libraries, Tar Heel Junior Historian, North Carolina Literary Review, and Our State.
Praise for Searching for Virginia Dare:
"As fascinating as a detective story. . . . An absorbing, intelligent consideration of national and personal identity, beautifully written." — Lee Smith, author of The Last Girls
"Marjorie Hudson has fashioned an intertwined tale of obsession, loss, and hope—in part truth, myth, and fiction. She has provided us not only history, but with questions about ourselves and our relationships [with] others. . . . She proves that a very talented writer can pull off a multi-genre story." — Clyde Edgerton, author of Walking Across Egypt and Raney
"Hudson forges an engaging blend of history, fiction, and memoir that commands the reader's interest." — Our State
"Hudson's writing style is fluid and poetic…Those who value the art of writing as well as substance will enjoy this "fool's errand." —North Carolina Libraries Journal
"Hudson does a wonderful job of turning what for most has been a staid history lesson into an entertaining and informative read." — "All Things Considered," Public Radio East
"Hudson has invented a new genre, a sort of parting of the authorial curtain to reveal . . . the commonalities that bind both author and reader to someone of another place and time" — Chapel Hill Herald
Anthologies
What Doesn't Kill You …


Edited by Murray Dunlap
A collection of essays and stories about near death experiences. Includes Hudson's Pushcart Special Mention story "Self Portrait in Camouflage."
Topograph: New Writing from the Carolinas and the landscape beyond
A collection of award-winning stories, essays, and poems from the Novello Press competitions over the past 20 years. Includes Hudson's story "Home."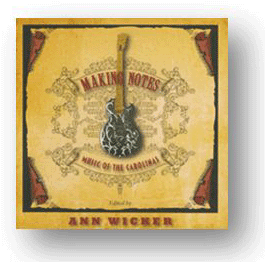 Making Notes: Music of the Carolinas
Edited by Ann Wicker
A collection of essays by North Carolina writers and musicians. Includes Hudson's award-winning essay "Darlin' Corey," about the dog who saved her life.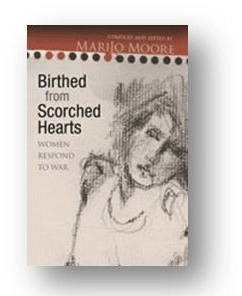 Scorched in the Birthing: Women Respond to War
Edited by MariJo Moore
A collection of essays, stories, and poems. Includes Hudson's essay "Sufi Dancing with Dad," about the death of a peace activist on the first day of the Iraq war.